The Manchurian Candidate (1962) John Frankenheimer, using documentary techniques from live television, created this classic of paranoid cinema, starring Frank Sinatra as the Major, Lawrence Harvey as the war hero, and Angela Lansbury as his mother, the Red Queen. It addressed unfounded public fears that soldiers captured by North Korea had been returned brainwashed to believe in communism. The film's release was delayed because, in this film, the attempted assassination of a presidential candidate at a national party convention proved prophetic.
Administrators waited until the last class,
History, to announce he was dead.
Desks overturned, no more duck and cover,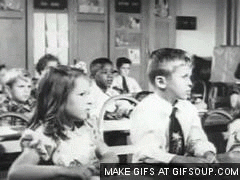 Just lots of screaming and crying.
There was a mad rush to the restrooms.
LESSON PLAN: The Teacher was not in control.
He had never been in control.
They lined up to board school buses.
 
Can captured soldiers be brainwashed?
Just ask the tv, the i-Pad, the tablet, the abacus.
Reality Shows began with killing an assassin,
As if that could wrap up who did what to whom.
Here at home, social conditioning continues.
LESSON PLAN: Learn your place and stay there!
Send Castro cigars laced with LSD.
Wait for the blowback.
 
Before marketing censorship stepped in,
With its fake laugh tracks, applause,
And rewrites so as not to offend anybody,
Playhouse 90 stalked the social issues
That bedeviled the 1950's homestead,
LESSON PLAN: What can't be seen never happened!
Each line scripted but shot live
As if a reality program.
 
The Red Queen set Lawrence Harvey off
To murder his bride and father-in-law,
And, in Richard Condon's original novel,
To have sex with his mother, all the ills
Of the family from an unstable woman,
LESSON PLAN: So much for the Matriarchy!
Fatherless, dragged from New Orleans to Texas,
Friendless, even in the Marines.
 
Patsy, fall guy, surrogate, self-elected martyr–
Coddled by whom? Who sympathized?
In each case, believing in slogans on the internet,
From loudspeakers, cultural leaders,
Church and family, the community,
REPEAT AFTER ME: I AM! I LOVE! I KILL!
The fake assassination shelved once the real
Assassination occurred.
 
[Disposable Poem May 7, 2016]
Dr. Mike
Visit Playhouse 90: