Dr. Terror's House of Horrors (1965) Freddie Francis, famed Hammer Horror Film director, showcases a collection of four supernatural tales dealt from Dr. Terror's tarot cards. The great Peter Cushing plays Dr. Schreck [a name all horror fans know as the actor who created the role of Nosferatu]. The cast includes. among others, Donald Sutherland as a newlywed and Christopher Lee as a snot-nosed art critic. Written by Milton Subotsky, this is the first in a series of horror anthologies from Amicus Films.
PROLOGUE
 
Tap three times on the Tarot pack to find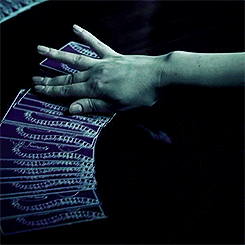 The deepest terror lurking in your mind.
 
Deal four cards, with one in reserve for last,
As if you could ever escape your past.

Your future is here, your future is now,
Your future is what you will never know.
INHERITANCE
 
An architect on the Scottish isle scans
His former estate for those newest plans
A widow requested who bought his home.
He knocks out two doors to discover the tomb

Of his clan's arch-enemy, Valdemar,
A werewolf the widow sealed up with pine tar.
 
Inheritance brings with it grievances too.
There's no accounting for a Folie à deux.
That silver bullets cannot subdue.
GARDEN PARTY
 
In a vegan's garden, strange with bamboo,
Bureaucracy strangles on its kudzu,
 
Which is why recalcitrance writhes in the South
Where uncommon hybrids are treated uncouth.
 
Around the family home, vines squeeze vines
Allowing no escape from ancestral lines.
 
Soon they will all catch fire in this coven
As the Ministry of Defense moves in
To defoliate immigrants with toxins.
THE CORNET
 
Pops followed King Oliver in second line
Whose heritage was less voodoo than shine;
 
His cornet peaked at a soprano topaz.
No white guy should ever compete in jazz.
 
Magpies thieve the whip-o'-will's drum reverb
And hock those rhythms on the world wide web.
                        
Hurricane God stifles breath with dark swells
Of cryptic tremors in tribal groundswells

To reclaim black soul from white infidels.
THE ART CRITIC
 
Matthew Arnold developed an aesthetics
That pitted new work against great classics

To find who belonged in the pantheon
And who should be run over by a Ford Crown.
With rigorous hauteur, this expert
Mistook an ape's painting for high art.
 
Ashamed, he took revenge in what he wrote.
The artist's severed hand reached the critic's throat;

For being indifferent, had him choked.
BRIDE
 
She flew off at night, and then she flew back,
Refreshed from some local's supple neck.



She had always wanted to have children
But her husband hated her menstruation.
 
He staunchly refused to perform his part,
And then he drove a spike in her heart.
 
Some blood-sucking doctor confirmed his crime.
Typical male, he knew whom to blame.
Nymphomania makes marriage insane.
 
EPILOGUE

Tarots can no more change a ghost channel
Than charge for sun on a solar panel.
 
Wishful thinking from writers tells you this
To silence censors of neurotic bliss.
 
All disembark from their derailed train
To follow Death through the gloomy rain.
The last Hanged Man card is always the same.

[Disposable Poem October 8, 2016]
Dr. Mike