What Happened, Miss Simone? (2015) Liz Garbus made this stunning documentary about Nina Simone. It exposes the effect of American racial violence on this uniquely talented artist. Contains revelatory interviews with husband Andrew Stroud and daughter Lisa Simone Kelly, but it's the accompanying footage of live performances that allows Miss Simone to leap off the screen and come fully alive.
 
After they bomb
Those four little girls
My voice crack
Deep cello vibrato
And never come back
 
Curtis be too curt a school
Ain't no black play no Bach
Well then, here my rule
Ain't no white sing no Blues
Except Gene on the bass
 
Nobody ask Maria Callas
Why she shine
Get out my way then
Take twice as much love
To stomp my rage
 
Lorraine wrote me
Love my black skin
And Langston wrote me
Mr. Backlash our song
But Stokley say we need guns
 
I live in constant fear
Of my husband and best manager
Charismatic bully
We got a love affair
With violence
Ain't no freedom here
Maybe in Liberia
Maybe in Paris
I give it all the soul I got
Fugue and counterpoint
 
How dare you forget me
How dare you

They're shooting us down
One by one
What's going to happen
Now that the King of Love is dead
 
[Disposable Poem February 6. 2017]
Dr. Mike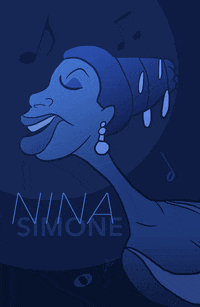 In Her Own Words and Music: A Tribute to Nina Simone. Tom Schnabel presents rare interviews and live performances by renowned chanteuse and activist Nina Simone, who passed away in France on April 21, 2003.