Alibi Ike (1935) Wide-mouthed comedian Joe. E. Brown plays a baseball pitcher whose hayseed bashfulness leads to boasting with alibis to cover his mistakes. As a result, he winds up kidnapped by gamblers. Olivia de Havilland cameos as the doting love interest in this choppy, badly segued adaptation from a Ring Lardner classic short story, modeled on the exploits of "King" Cole, the first Chicago Cubs pitcher to throw a no-hitter in 1910. "His right name was Frank X. Farrell, " Lardner wrote, "and I guess the X stood for 'Excuse me.' Because he never pulled a play, good or bad, on or off the field, without apologizin' for it." Numerous major league baseball players make cameo appearances in this film, including Archie Campbell, Bob Meusel and Herman Bell. And Joe E. Brown's pitching style mimics Goofy.
Charlie Hustle had the muscle,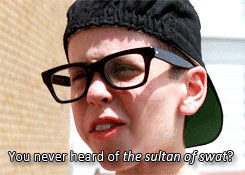 Loveable palooka from Cincinnati,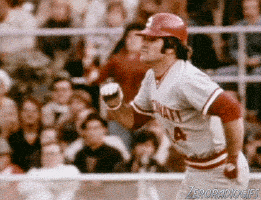 Knocking it out of the Fourth of July.
 
Sport's full of risk and gamble
On a life-long game of struggle,

But Charlie Hustle had the muscle.
 
He'd bustle round all four bases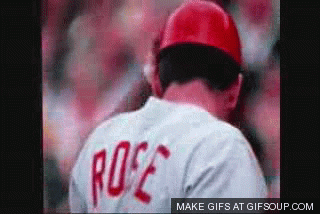 And wrestle any catcher in the scuffle
And knock him out on the Fourth of July.
This muckle was a knuckle-head,
Betting on horses the mob had bred,
Till Charlie Hustle wound up in trouble.
 
Excluded from the Baseball Hall of Fame
He lost the right to be in the game,
Knocked out on the Fourth of July.

But in the bars of Western Hills
Even today nobody speaks ill
Of Charlie Hustle who once had the muscle
To knock it out on the Forth of July.
 
[Disposable Poem June 7, 2017]
Dr. Mike