Calamity Jane (1953) Doris Day once claimed that this movie was the closest to who she really was, and certainly her performance expresses wild exuberance and delight. Sammy Fain (music) and Paul Francis Webster (lyrics) scored Billboard and Academy Award success with "Secret Love," which, coupled with "The Dead Wood Stage (Whip-Crack-Away)," adds a lesbian subtext to this musical. "I Can Do Without You," sung to love interest Howard Keel, reminds me of Irving Berlin's "Anything You Can Do I Can Do Better" from "Annie Get Your Gun" where it was also sung to Howard Keel. Nevertheless, David Butler once again displays his competent direction of musicals, and the choreography allows Doris Day to become a Cincinnati tomgirl.

Mother to six siblings when her own mother died,
A Canary in the West, she scrounged to provide.

She scrubbed and she danced and she drove an ox-team
To join Fort Laramie's Hog Ranch downstream.
Alcoholic, scholars claim, but so were all cowboys
To fend off disease from Dakotas to Illinois.
Nicknamed by her Captain for saving his life,
Dime novels invented her skills with a knife.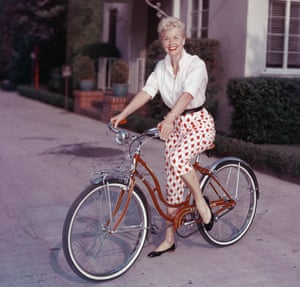 She claims to have witnessed Wild Bill gunned down
And watched President McKinley hit the ground.
Controlling her self-image, this Angel of Mercy
Helped smallpox victims when they were needy.
Posing with a rifle, Indian scout she still slings
Six husbands as notches on her weeding rings.
[Disposable Poem May 16, 2019]
Dr. Mike