The River (1951) In the aftermath of Edward Said's "Orientalism" and Gayatri Spivak's "Can the Subaltern Speak?" what can be said of Jean Renoir's first Technicolor film, shot in documentary fashion on location in Bengal, with a mix of actors and local nonprofessionals? The emphasis on British colonial life through the eyes of Harriet, a young girl, keeps viewers at a distance from India, and Radha's dance sequence may now seem travelogue exploitation. Despite these qualms, this movie retains a painterly and poetic charm, precisely because the principal characters are all outsiders. Perhaps Renoir is exploring what it means to be present in a foreign land to which you can never belong. "I'm a stranger wherever I go," Captain John, the romantic lead says, to which Melanie replies, "Where will you find a country of one-legged men?"
Whether it be the sacred Ganges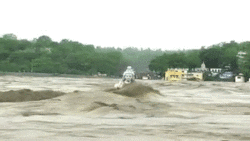 Or China's raging Yangtze,
Downriver from tornado territory
[Photo by Ricky Ellis]
Flooding closes Arkansas highways.
Surging currents churn the water
As neighbors sandbag against disaster,
Then, when the levee deteriorates,
Lollie Bottoms evacuates.

A driver sinks like a white shark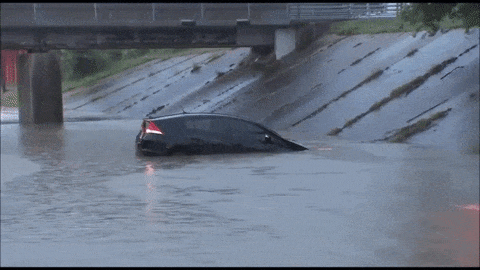 In Silloam Springs Kayak Park.
With so much moisture in the ground,
This is what's left of Highway 155 in Yell County. Floodwater from the Dardanelle levee breach left a hole 200 feet wide: https://bit.ly/2YSrria
July soy won't come around.
Snakes and beetles strengthen their feed
In standing pools where mosquitos breed.
Infecting cabins with cancerous mold,
Receding waves warp the household.

Stinking of sludge, refuse, and muck,
The river crests outside Toad Suck.
Now begins the slowest recovery,
Scraping worms from a tree.
 [Disposable Poem June 8, 2019]
Dr. Mike